Why Choose Gigantic Bean Bags?
Trusted Since 2012

Free Shipping

Eco-Friendly

Non-Toxic

Made in USA

100% Satisfaction Guarantee
What Makes Our Bean Bags Great?
Foam Filling Safer For Children and Pets

Opt for peace of mind with our foam-filled bean bags, as they provide a safer filling option than to beans or beads (which can pose a choking hazard). Our high quality, non-toxic foam ensures a worry-free lounging experience for the whole family.

Premium Microsuede Cover

Premium microsuede cover that not only enhances the overall aesthetic but also offers a velvety softness to the touch. The microsuede material ensures durability and adds a touch of sophistication, making these bean bags a stylish and plush addition to any space.

Double Stitched for Extreme Durability

Experience durability at its best with our bean bags featuring double stitching – a mark of superior craftsmanship. Double stitching reinforces the seams, making these bean bags a resilient and long-lasting seating solution for your relaxation needs.

No Beans - Filled With Ultra Comfortable Shredded Foam

Our 100% recycled furniture-grade polyurethane foam takes relaxation to a whole new level, surpassing any beans or beads filling. The premium foam ensures optimal support and durability, making it a superior choice for those seeking a truly luxurious lounging experience.

Removable Machine Washable Cover

Easy care with our machine-washable bean bag covers, designed for hassle-free maintenance. Crafted with durable materials, these covers ensure both style and practicality, making it effortless to keep your bean bags looking fresh and inviting.
Reviews
"It is the best piece of furniture I have ever purchased. I love to come home and just curl up and relax on the bag. It is super comfy. Thank you so much." 

— Jen, Idaho

"I have fallen asleep twice while watching TV. It's ridiculously comfy and soft! ...Smart buy!"

— Tilly, Nevada

"Comfy, Comfy, Comfy, ...perfect for my dorm. I take it down the hall or out into the commons to play some video games or watch a movie. I always have the best seat in the room."

— Jase, Texas
Great For Kids, Adults, and Teens Alike
For Adults

Designed with adult dimensions in mind, our bean bags offer a comfortable and accommodating seating solution for grown-ups. The generous size and supportive design ensure that adults can unwind and relax with the perfect balance of comfort and style.

For Kids

Our kid-friendly bean bags create an inviting space for kids' rooms. The vibrant colors and durable materials make these bean bags a perfect addition to any child's space, offering a comfortable spot for both play and relaxation.

See Our Bean Bags for Kids Collection

For Teens

Our bean bags strike the perfect balance between style and comfort, making them an ideal addition to any teen's living space. With a variety of colors and high quality materials, these bean bags provide a comfortable and stylish spot for teens to unwind and express their unique sense of relaxation.
Chairs, Beds, and Couches, Oh My!
Bean Bag Chairs

Designed with adult dimensions in mind, our bean bags offer a comfortable and accommodating seating solution for grown-ups. The generous size and supportive design ensure that adults can unwind and relax with the perfect balance of comfort and style.

See Our Bean Bag Chair Collection

Bean Bag Beds

Experience the pinnacle of relaxation with our giant bean bag bed. Indulge in the ultimate comfort with its premium microsuede cover and high-quality foam, creating a dreamy sleeping space that seamlessly combines luxury with coziness.

See Our Bean Bag Bed Collection

Bean Bag Couches

Transform your space with our huge bean bag couches, designed for unparalleled comfort. Crafted with a premium microsuede cover and high-quality foam, this versatile piece combines style and relaxation, making it the perfect centerpiece for any lounge area.

See Our Bean Bag Couch Collection

Bean Bag Sofas

Elevate your living room with our expansive bean bag sofas, tailored for unmatched comfort. Featuring a premium microsuede cover and high-quality foam, this versatile piece seamlessly merges style and relaxation, establishing itself as the perfect focal point for any lounge setting.

See Our Bean Bag Sofa Collection

Bean Bag Pillows

Indulge in supreme comfort with our expansive 6 ft. bean bag pillow, crafted for an unrivaled relaxation experience. This oversized pillow offers a luxurious blend of support and softness.

See Our 6 ft. Bean Bag Pillow

Bean Bag Loungers

Immerse yourself in relaxation with our large bean bag lounger, featuring an oblong shape. Crafted with a premium microsuede cover and high-quality foam, this lounger combines ergonomic design with luxurious softness, creating the perfect retreat for ultimate lounging satisfaction.
By Room
Living Room

Introduce a laid-back elegance to your living room with our bean bags, seamlessly blending comfort and style for a relaxed atmosphere. The versatile design ensures these bean bags become a perfect complement, offering an inviting and cozy seating option that effortlessly enhances your living space.

Classroom

Create a dynamic and comfortable environment with our bean bags, ideal for classrooms seeking flexible and inviting seating solutions. The adaptable design make these bean bags a practical addition, fostering a relaxed atmosphere that enhances engagement and collaboration in educational settings.

Office

Revitalize your office space with our ergonomic bean bags, seamlessly combining comfort and functionality for a more relaxed and productive work environment. The contemporary design and supportive structure make these bean bags a stylish and comfortable alternative to traditional office seating.

Theater Room

Transform your theater room into a cozy haven for movie nights with our bean bags, providing plush and flexible seating for the ultimate cinematic experience. These bean bags offer a laid-back yet stylish solution, ensuring every movie night is as relaxing as it is entertaining.

Dorm Room

Maximize comfort and space in dorm rooms with our bean bags, offering a versatile and stylish seating solution for students. Compact yet cozy, these bean bags provide an inviting spot for studying or relaxing, adding a touch of comfort to the limited space of dorm living.

Playroom

Transform playrooms into vibrant and comfortable spaces with our bean bags, designed to offer a versatile and cozy seating option for kids. These compact and inviting bean bags create a relaxed atmosphere for play and creativity, making them the perfect addition to any playroom.
Luxurious
Luxury Bean Bags

Indulge in the lap of luxury with our bean bags, crafted from premium materials and featuring a sumptuous microsuede cover that exudes sophistication. The exquisite design and superior comfort elevate lounging to an unparalleled level, making these bean bags a lavish addition to any space.

Designer Style

Seamlessly blend aesthetic sophistication with unparalleled relaxation. Each piece is a testament to the fusion of premium craftsmanship and innovative design, offering a chic and comfortable seating solution for those who appreciate the finer things in life.

Quality Comes First

Our bean bags stand as a testament to exceptional quality, meticulously crafted with premium materials and attention to detail. The durability and comfort of our bean bags ensure a long-lasting and luxurious seating experience that surpasses expectations.
Any Colored Bean Bag You Could Need
Black

A black bean bag not only adds a touch of sleek elegance to your space but also offers the practical advantage of concealing stains or spills with ease. The timeless appeal of black effortlessly complements various decor styles while providing a low-maintenance and stylish seating solution

Blue

A royal blue bean bag adds a touch of regal elegance to your space, creating a focal point that exudes sophistication. The deep and luxurious hue not only elevates the aesthetic appeal but also offers a stylish and comfortable seating solution, making it a standout choice for those seeking both opulence and relaxation.

Red

A red bean bag not only injects a vibrant burst of color into your environment but also stimulates energy and adds a playful touch to your decor. The warmth and boldness of red create an inviting atmosphere, making it an aesthetically pleasing and mood-enhancing choice for a lively and stylish seating option

Gray

A gray bean bag effortlessly merges versatility with sophistication, providing a neutral yet stylish addition to any room. The subdued tone not only complements a variety of decor styles but also conceals everyday wear, making it a practical and timeless choice for a chic and comfortable seating option.

Purple

A purple bean bag infuses a sense of luxury and creativity into your space, elevating the ambiance with its rich and regal hue. The vibrant yet calming qualities of purple make it a distinctive choice, adding a touch of flair to your decor while providing a comfortable and stylish seating solution.

More Colorful Bean Bags

We have a variety of other colors for you to choose from as well.
Relax While Gaming and Reading
Gaming

Level up your gaming setup with the ultimate in comfort and versatility for the most immersive gaming sessions. With an ergonomic design and plush support, these bean bags are a gamer's dream!

Reading

Curl up with your favorite book in unparalleled comfort with our bean bags, providing a cozy and inviting space for leisurely reading. The ergonomic design ensures the perfect support making these bean bags an ideal companion for book lovers seeking both relaxation and style.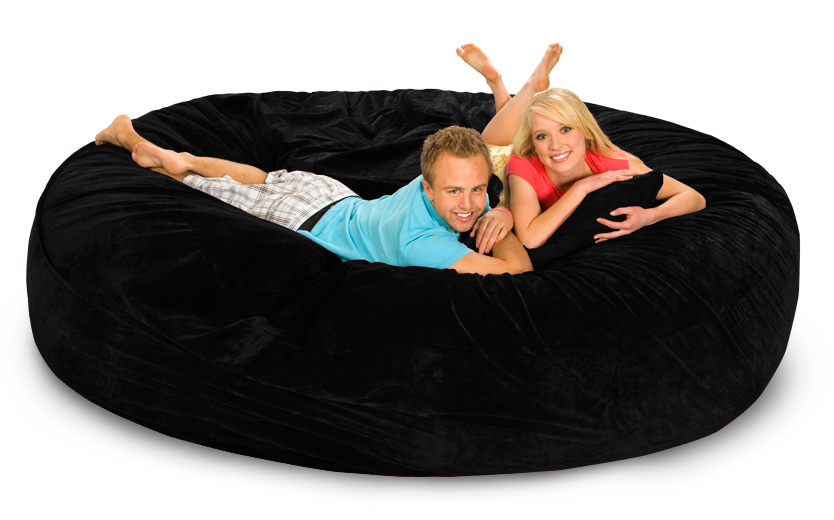 The Biggest Bean Bag Anywhere. Period.
You won't find any bean bag bigger than our gigantic 8 x 8 ft lounger.
Like all of our luxury bean bags, it's filled with premium quality, furniture-grade foam and features a beautiful microsuede cover. 
See Our Giant 8 ft Bean Bags
Frequently Asked Questions
What is the biggest size of bean bag?

Our 8 ft Gigantic Bean Bag. It measures 8 ft. x 8 ft. x 2 ft. 10 in. and weighs 130 lbs.
Where do you put a bean bag in a room?

It depends on various factors, including the room's layout, the bean bag's purpose, and your personal preferences. Here are some suggestions on where to put a bean bag in a room:

Living Room:

TV or Entertainment Area: Place the bean bag near the television or entertainment center for comfortable seating during movie nights or gaming sessions.

Reading Nook: Create a cozy reading corner by positioning the bean bag near a well-lit area with a bookshelf or reading lamp.

Bedroom:

Reading Corner: Use the bean bag as a comfortable spot for reading or winding down before bedtime.

Lounging Area: Place the bean bag at the foot of the bed or in a corner for additional seating or a relaxing spot to unwind.

Playroom or Children's Room:

Play Area: Place bean bags in a designated play area for kids, providing a comfortable and versatile seating option.

Reading Spot: Create a cozy reading nook with bean bags and a small bookshelf.

Home Office:

Relaxation Zone: Add a bean bag to a corner of your home office for a comfortable space to take breaks and relax.

Collaborative Space: If you have a collaborative work environment, use bean bags for casual meetings or brainstorming sessions.

Game Room or Entertainment Space:

Gaming Area: Position bean bags around gaming consoles or a gaming table for a comfortable gaming setup.

Socializing Space: Use bean bags as casual seating for socializing in a game room or entertainment space.

Dorm Room or Small Apartments:

Flexible Seating: Bean bags can be easily moved around, making them ideal for small living spaces where flexible seating options are needed.

Home Theater:

Home Theater Seating: Arrange bean bags in a row or semi-circle for a casual and comfortable home theater experience.

When placing a bean bag in a room, consider the overall flow and design of the space. Experiment with different arrangements until you find a placement that enhances both the functionality and aesthetics of the room.
How big is a 4 foot bean bag?

The 4 foot bean bag measures 4 ft. x 4 ft. x 30 in. and weighs 45 lbs.
How much does a 7 ft bean bag weigh?

The 7 ft bean bag weighs 102 lbs.
How big is a 7ft bean bag?

Dimensions are: 7 ft. x 7 ft. x 2 ft. 10 in.
Which bean bag size is best for adults?

While it does depend on your preferences, 5 ft. and 6 ft. sizes are generally great for providing enough space for one adult to kick back and relax.

If you want to go even bigger (either for yourself or if you want something big enough for 2+ people) consider a 7 ft. or 8 ft. size. Just consider your room size, comfort preferences, and how you plan to use it.
Are beans or foam better for bean bags?

Bean or bead-filled bean bags are lighter and cheaper.

However, foam-filled bean bags have the following advantages:

Comfort and Support: Foam-filled bean bags often offer better comfort and support. The foam conforms to the shape of your body, providing a more contoured and personalized seating experience. This can be especially beneficial for longer periods of use.
Durability: Foam tends to be more durable than polystyrene beads (beans). Foam-filled bean bags maintain their shape over time, whereas bean-filled bags may compress and require periodic refilling to retain their original comfort.
No Noise: Foam-filled bean bags are quiet. Unlike bean bags filled with beans, there's no rustling or crunching noise when you move around, providing a more peaceful and less disruptive experience.
Maintenance: Foam-filled bean bags generally require less maintenance. Beans can shift and settle, necessitating occasional refilling to maintain optimal comfort. Foam, on the other hand, tends to stay in place without frequent adjustments.
Weight: Foam-filled bean bags can be heavier than bean-filled ones. Some people prefer the substantial feel of a heavier bean bag for added stability.
Can two people sit on a bean bag?

Yes, but you'd probably both be most comfortable on a 6 ft. or larger bean bag.
Where is the best place to put a bean bag?

The best place to put a bean bag depends on your preferences, the available space in your home, and how you plan to use the bean bag. Here are some ideas for optimal bean bag placement:

Living Room: Bean bags are a popular and versatile addition to living rooms. They can serve as comfortable extra seating for guests, a cozy spot for reading, or a casual lounge area for watching TV.
Bedroom: Place a bean bag in your bedroom to create a comfortable reading nook or a relaxing spot for winding down. It can also serve as an additional seating option.
Game Room or Entertainment Area: If you have a game room or dedicated entertainment space, bean bags can provide a laid-back and comfortable seating option for gaming, watching movies, or hanging out with friends.
Home Office: Consider adding a bean bag to your home office for a comfortable and informal seating alternative. It can be a great place to take a break, brainstorm ideas, or engage in casual discussions.
Children's Play Room: Bean bags are popular in children's rooms for play and relaxation. They provide a safe and comfortable spot for kids to read, play games, or watch cartoons.
College Dorm or Apartment: Bean bags are a practical and space-saving seating solution for college dorms or small apartments. They can be easily moved around to accommodate different activities.
Can bean bags get wet?

If you spill something on your beanbag, that's ok because the cover is removable and machine washable. Our bean bags, however, are not designed for outdoor use.

In short, spills are ok. Being left out in the rain is not.
Do bean bags attract bugs?

Foam-filled bean bags are also not inherently attractive to bugs. However, bugs might be drawn to the fabric or cover if there are spills or crumbs present. Regular cleaning and maintenance can help prevent this.
How do you fluff a giant bean bag? How do you keep bean bags from going flat?

Usually, you only need to occasionally rotate and flip the bean bag to ensure that the foam is distributed evenly. If necessary, due to high humidity, break up any clumps or areas where the foam may have compressed by hand.